Metropolitan Bakery Breads, Confections & Pizza
are hand crafted using locally sourced ingredients. Since 1993, we've been tempting Philadelphians with freshly baked breads, pastries, snacks and our famous granola. And now that we ship throughout the U.S. — we can tempt you, too.
Philadelphia Locations
University City
4013 Walnut Street
215 222-1492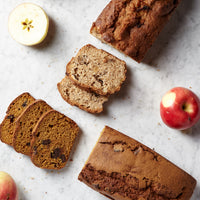 Featured Product
Autumn Pound Cake Duo
Serve up the flavors of fall at your next gathering. Our Apple Spice and Pumpkin Chocolate Chip pound cakes make the ultimate autumn power couple. The perfect seasonal dessert.
Shop now
Bread of the Month
Whole Wheat Sandwich
A light sourdough bread packed with nutritious whole grains that have been presoaked for better digestion. Enjoy it toasted for breakfast with a spread of butter and jam or as a bookend for any sandwich at lunchtime.
SHOP NOW